Avsec Consulting has employed 3 EU Security Validators, all of which have been approved by the Danish Transport, Construction and Housing Agency to validate companies that want to be approved as known suppliers of in-flight supplies or known supplier of airport supplies.
A validation involves the following processes:
Counseling,
Assisting in the preparation of a security plan and the content of specific procedures,
Training of security officers, deputies and employees (courses in training of the security officer and deputy are offered approximately every 3 months – courses for the employees are most often held at your own company),
A visit to your company to see if you have implemented your processes appropriately, and
Preparing of a validation report.
When the validation report is complete, the company can send the validation report as well as the security plan to the company that wants to appoint you as a known supplier. You will then be appointed for 2 years, after which you will need to be validated again.
Avsec Consulting can also validate companies flying cargo from third countries and therefore need to be approved as a so-called ACC3.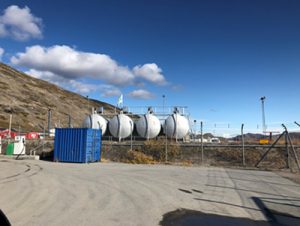 Validation of tank depot in Greenland